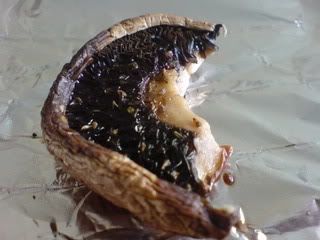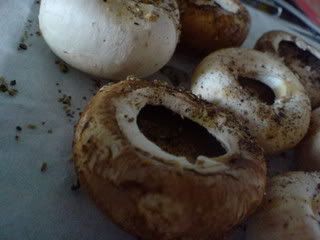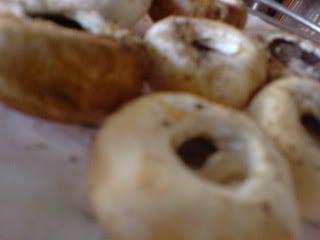 Ever since my Indonesia trip, I found a new item for my daily breakfast... Mushrooms! Actually, I have been eating them, but not on a regular basis. Time from time, when I forgot to replenish my yogurt, I will grill some mushrooms for provided I have the time in the morning to do so... :P
What about bread then? The forever staple food on earth? To be very honest, I LOVED my bread, especially those freshly baked ones from the old confectionaries. If anyone is a bread lover, please please visit the confectionary at Jalan Leban. They only open at night from 630pm onwards, and they close on Friday. Their bread is not just a staple but an ultimate comfort food that satisfy not just your stomach but your soul as well. The uncle will always baked some 'Roti Kok' (Toasted bread with sugar and butter) and offer to his customers. I always feel very happy when I patronise their shop after work.
BUT, but... my stomach can't take alot of yeast and refined flour... tends to get bloated easily... so 'bo pian' (no choice), have to limit my refined carb intake and switch to something else. Mushrooms appeared to be a wise choice. ;)
Just get those fresh mushrooms in the Supermarkets (NTUC, Cold Storage). You will be spoilt for choice on the variety: White Button, Brown Button, Portobello whatever you can find on the shelves.
How To:
1. Don't wash the mushrooms! If you wash them, the mushrooms will absorb the water and lose their own flovour.
2. Get a damp kitchen towel and wipe the mushroom caps. Remove the stalks. I don't take them. There are some recipes that uses these stalks though.
3. Put them on the aluminium foil and place on the baking rack.
4. Sprinkle dried herbs or fresh herbs if you have on. I use oregano and basil.
5. Grounded black pepper if you like.
6. Lastly, a sprinkle of olive oil. If you like them to be more frangrant, replace oil with a knob of butter.
7. Put it in the grill for 8-9 mins, depending on your oven and your preference on the mushroom texture.
Note: They shrink after they are cooked. So, while they looked big when they are raw, you might want to grill a few more... just in case ;) they disappear pretty fast!