This is the first week of Sydney. Weather is a rollercoaster. We came with the idea that the weather is cool with a high of 21 degrees. But, to our great disappointment, it rained the whole Sunday we were here. We stayed at Shangrila, located at The Rocks. Unduanted by the rain, we walked at The Rocks Markets with our huge Shangrila umbrellas! Sad... cos we had took the midnight flight from SG to SYD with hopes of spending the day shopping in the malls and the Paddy's.
Well this week has been madness... the weather, the workload, the drives from hotel to the office... we spent 2-3 hours on the roads each day, depending on which of the 2 offices we go, and for the past 5 working days, we went to each office on alternate days. I had to recap the route every day! Even my colleague who's the driver says she has to reset her memory every day... urghhh...
But... admist all the complaints... there are some nice things that happened.... :)
Skyline of Sydney from my bedroom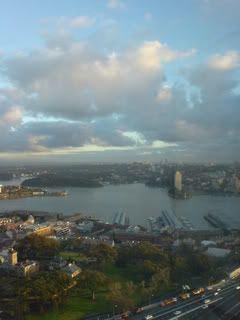 Chocolates and fruits... ;)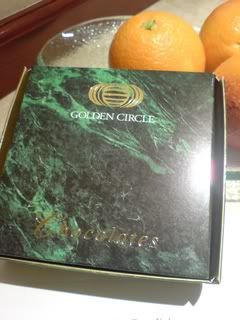 The ground coffee, camomile tea and even fat free chocolate! Heaven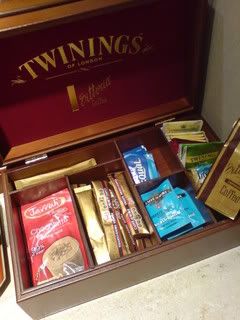 Welcome tea! Served from the traditional teapot!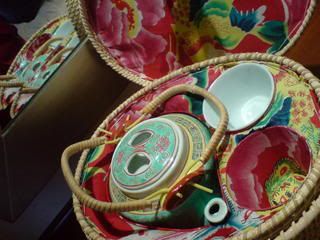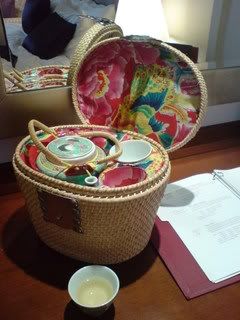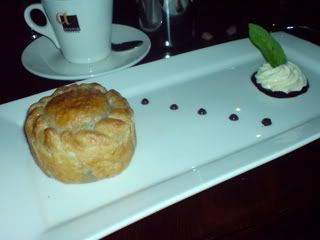 Who says I can't eat mooncake in AU's restuarant? This is the chocolate 'mooncake' I had for dessert in one of the famous restaurants along Darling Harbour 'Meat & Wine Co.'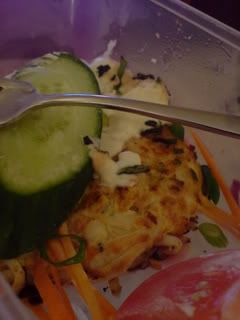 Friday night TV dinner. Bought it at one the bistros along George St. So sick of eating late every night. Managed to be back before 830pm on Friday... Went to 'ta-bao' dinner, and realised what a big difference is the price. Same food, dine-in was A$16.50, but takeaway was only A$10! Spent the night with Bridget Jones sequel on Channel 10. Bliss...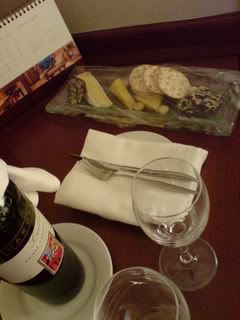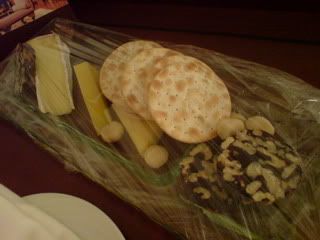 I got presents from the hotel! Not surprised, cos the last time I stayed here, I got a bottle of wine and cheese platter aa a welcome gift. This time I got a bottle of wine on Thursday, minus the cheese platter... weird I thought... But in Friday, I saw another bottle of wine plus the cheese platter...hahaha... shiok... save $$ on liquor.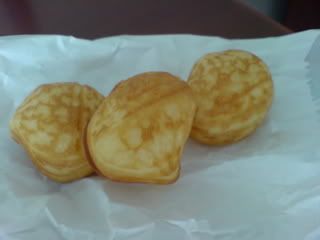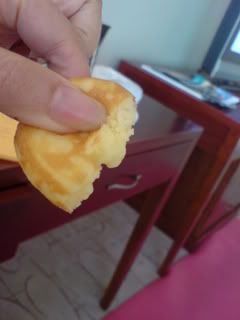 This thing here is called 'Emperor Cream Puff'. I chanced aross it this afternoon at Chinatown. Saw people queuing for it, Asians and locals. Initially wanted just 2 to have a try but at only A$1 for 5, I ended up taking 5...hee. Also bcos the wait is pretty long, so might as well. Quite stupid to queue 15 mins for 2 cab laden sweets... :p Verdict: Worth queuing for. Eat it when its piping hot, my tongue got scalded! But it's worth it. The custard oozing out from the little cake... yummy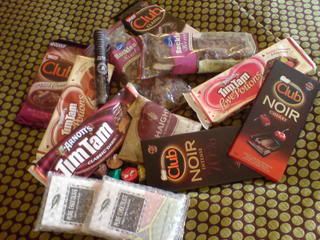 Did I tell you that Spore will have a chocolate drought soon? That's why I am buying so much!!! HAHA, I did a stock count of the chocs I bought over this week... horrible, from Timtam which is only A$1.99, Nestle Club Noir of A$1.49, Nestle Club blocks of A$2.49, Haigh's dark chocolate coated coffee beans and Darrell Lea's Rocky Road... wow... chocolate overload. I also manage to get my hands on 100% unsweetened chocolate and cocoa nibs over an online AU website. www.tava.com.au. Enough, think I need to get an empty carton box to keep all these.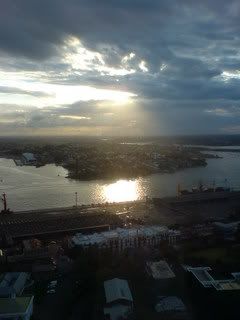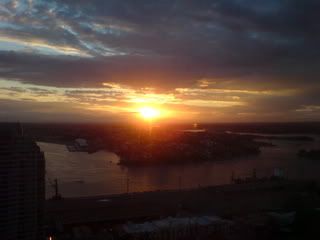 Beautiful sunset... taken from my bedroom window with my hp camera. Weekend is the only time to be here during sunset.
Well, this weekend will be loaded with lots of work documentation... its almost 6pm now... another 6 hrs of work before I hit the bed... :(