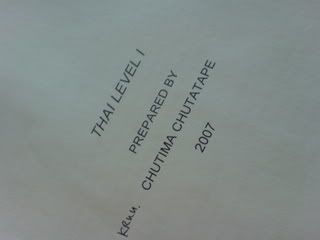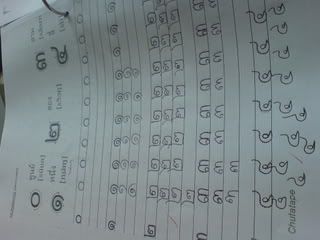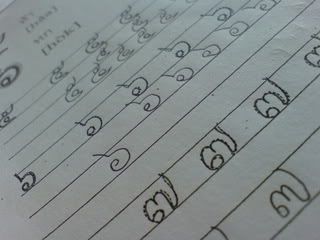 My first Thai lesson! Was I excited. The 3 hour class was definitely not easy. Our teacher, Kruu Chutima is a soft spoken lady but teaches at quite a fast pace. Really have to be attentive in order to catch what she says.
Felt like I was back in kindergarten when I was tracing the dotted lines, trying to write numbers in thai. All these symbols look like the treble clefs in the music sheets... I was so obsessed with them that I was still practicing on my notebook at 130am! hahaha... hope this passion lasts.... hee...:P
A total of 10 lessons, but I will missing 2 becos of my business trip in August...sigh... have to depend on my brother to take good notes for me. Apparently at the end of the course, there's a test! Includes both writing and speaking... Oh my god... I better study hard and take notes....