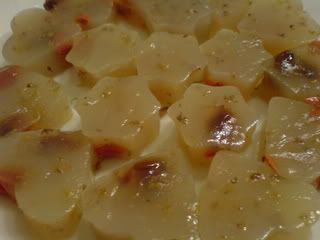 This is what happens when W is not around. Can't cook, so I ended up doing cookies and other sweet stuff. Was down throughput the weekend due to a bad cold and sore throat. Accumulated from the lack of sleep and stress in Indonesia. What a waste of my weekend! Should seek compensation from my boss... :P
Finally felt better last night, and I need to feel better, cos I won't want to miss my yoga lesson tomorrow. Already missed one on Monday due to my cold... urghhh... Anyway, I made this osmanthus kueh to bring to the office today, as all my dept colleagues are back from their business trips. This dessert is known for its 'cooling' effect, which some of us need pretty desperately...*wink*.
The recipe is obtained from the Imperial Kitchen forum. The recipe is provided with courtesy from Karlskrona. Hope you folks like it! ;)
Note: The kueh just need to be steamed for about 15 mins, till transparent. Then let it cool in the container, and park it into the fridge overnight. Any moulding or shaping can be done the next day. When the kueh is cold, its easier to cut the shapes with your moulds.