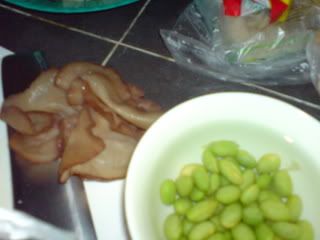 Dinner was for one last night, as W went to entertain his korean friends. I was tired of eating out and snacking on biscuits and junk food. In the end, decided to raid my fridge to make something to reward myself.
In my earlier China and Phuket trip, I manage to buy fresh edamame and fresh black fungus! I had never seen fresh fungus all my life! It was quite an eye-opener for me. Also managed to buy fresh straw mushrooms, going to cook that on friday for dinner... drooling already just thinking of it.
Anyway, whipped up a quick meal with the following ingredients:
1 small firm beancurd, sliced. I freezed it earlier, thus creating those 'holes' in the beancurd. In chinese, its called 'Dong Dou Fu' literally translated as 'frozen bean curd'.

Black fungus

Handful of edamame

1 stalk of Tang Oh vegetable (or any veg u have on hand)

bamboo shoots

1 small piece of preserved radish, chopped (adjust accordingly to your preference)

2 pieces of galic, chopped

some dried shrimps, chopped (adjust accordingly to your preference)

Seasoning (fish sauce, pepper, chili powder, shao xing wine) to taste

Water or stock if you have on hand
Fry the garlic in a heated oiled wok.

Add the preserved radish and dried shrimps and fry till fragant, about a min.

Add the beancurd, bamboo shoots and black fungus. Give a quick stir fry, add some water/stock, followed by fish sauce. As fish sauce is already salty, don't add salt in this dish.

Add the edamane and continue to stir fry over medium heat. These ingredients are generally quick to cook. But I ususally cook a little longer to get the flavours.

At this point, you can add the wine, and chili powder. Add more water if needed for the ingredients to simmer.

Lastly, add the Tang Oh, turn up the fire, quick stir fry till the veg stalk to soft enough to cut through with the fryer.

Add peper, turn off the fire and serve immediately.
Really liked this dish, regretted that I don't have a bowl of rice to go with it...haha
You can change any ingredients above, but the general idea is to have a good mix of crunchy and soft vegetables. :) think i will be recreating this dish on friday... yum yum... :P