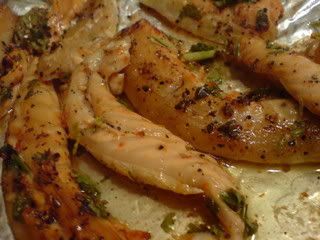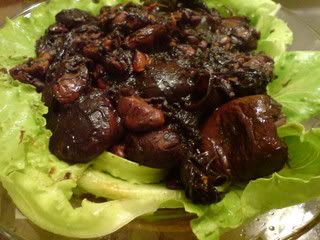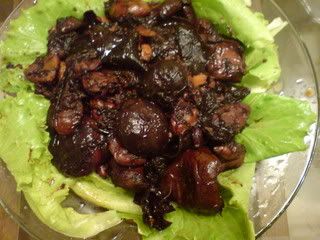 Being back home with W means more home cooked food. I mean, instead of having dinners at my mum's place, I prefer to cook for 2. Time to horne my cooking skills before they go rusty... also before all the stuff in my kitchen cabinets grow mouldy and expire!
Grilled Salmon Belly
These are lovely salmon belly pieces we found at cold storage. How to cook them? Simple. As long as the fish is fresh, I do them in only 2 ways, either steam or grill them. All you need is the following to marinate them:
- half a lime/lemon
- pinch of sea salt
- ground pepper, freshly ground if you can
- handful of fresh herbs. I use coriander. For those we don't like the coriander smell, you can always change to dried oregano, or fresh basil.
Season them for about 15mins, and put them on the oven grill. I put them for about 10mins in the oven.
Out comes the nice, crisp salmon belly with all the omega-3 fat oozing out...lovely.
I paired it with fresh local lettuce, so that the fish smell is not too overwhelming.
Briased Black Moss with Dried Oysters and Dried Mushrooms
This is a dish usually eaten during CNY. I have alot of dried oysters in the freezer, not knowing what to do with it. Decided to be a little bit hardworking and made this dish. If you want it for dinner, it's best to cook it in the morning and let the flavours develop throughout the day.
- Dried mushrooms
- Dried oysters
- Dried Black fungus
The above items should be rinsed and soaked overnight separately. I did not state the quantity as it's up to each person's preference. For 2 pax, i used about 10 pcs of dried mushrooms, 15 dried oysters and 3 pcs of dried fungus.
- Black moss
- 2inch piece of cinnamon bark
- 1 star anise
- 3 cloves of garlic, bashed but still with skin
- 2-3 tbsp of dark soy sauce
- 2 tsp if light soy sauce
- 1 tsp of brown sugar
- 1/2 cup of stock or water
Brown the garlic with olive oil till fragrant. Then, add the cinnamon and star anise. When the fragrance is released, about a min or so, add in the mushrooms, oysters and fungus. Stir fry them for a min. Add the black moss in and fry for a while more. Add in the soy sauce and sugar. Also add the stock at this time. Simmer it over a low fire for about 20 mins. If the liquid is drying out, add more stock/water.
Generally, the ingredients can be cooked quickly, but time is required for the ingredients to absorb the flavours and seasonings. Patience and time is required for this dish.:)
Before dinner time, just reheat the dish and serve it on a plate of lettuce. :)