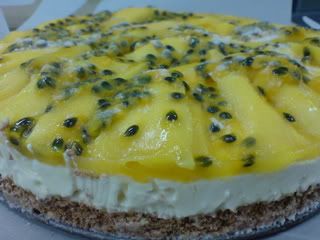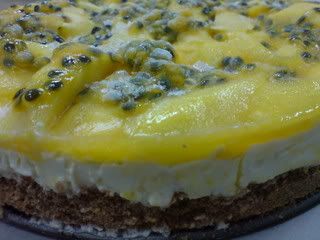 Did another cake for a colleague's birthday. She loves cheesecake and mango, thus the combination. This item does not need any baking. Looked through quite a few recipes, trying to decide what goes into the cake.
Couple of recipes... the main source one from Imperial Kitchen and some others on the internet. Along the way, I made some modifications since I do not have gelatin leaves.
Variations made:
- Used 1 block of cream cheese instead of mascarpone.
- Used 250 grams of marie biscuits, mixed with 2 tsps of cocoa powder. Marie bisuits tend to be drier, so I added slightly more melted butter. The trick is if the crumb mixture does not come together after you press them in your hands, you will need more butter.
- Used juice and zest of 2 big limes. Zest is mixed with the cream cheese during the creaming stage, while the juice is added in the last stage after the whipped cream is added. The juice acts as a thickening agent for the cheese, and adds a tang to the cheese, which is a nice contrast.
- I did not use sour cream. Only added 200g of whisked whipping cream. Did a boo-boo on the whipped cream. I over-whisked it and the water separated from the fat! All in a matter of seconds...haha... Had to run out and buy another portion.
- Oh yes, I added 1 cup of low fat condensed milk! I had my reservations initially over adding condensed milk. But after searching through a few recipes, I realised that quite a few added this item. To my pleasant surprise, the end result was a very smooth batter, and the sweetness is just nice for someone like me who don't have a sweet tooth. :)
Of course, no further sugar is added.
I had the whole cake stored in the freezer overnight, and cooled in the fridge on the day of serving. You would realise that the passionfruit will start to 'defrost' and trickle down the sides of the cake. It's ok, let it be, as it enhances the flavour of the cake.
Not too difficult a recipe to make... :) Will make this again based on request...kekeke...